Peter Van Camp
Executive Chairman
Peter Van Camp serves as our executive chairman, a position he was appointed to in April 2007. Prior to this position, Mr. Van Camp served as our chief executive officer and as a director since May 2000 and as president since March 2006. In addition, in December 2005, Mr. Van Camp was re-elected as chairman of the board, having previously served in that capacity from June 2001 to December 2002. From January 1997 to May 2000, Mr. Van Camp was employed at UUNET, the Internet division of MCI (formerly known as WorldCom), where he served as president of Internet markets and as president of the Americas region. During the period from May 1995 to January 1997, Mr. Van Camp was president of Compuserve Network Services, an Internet access provider. Before holding this position, Mr. Van Camp held various positions at Compuserve during the period from October 1982 to May 1995.
Mr. Van Camp currently serves on the board of directors of the Damon Runyon Cancer Research Foundation.
Charles J. Meyers
President & Chief Executive Officer
Charles J. Meyers, President and Chief Executive Officer, is responsible for leading Equinix's strategy, innovation and continued track record of growth, execution and service excellence. In this role, Charles partners with his more than 10,000 Equinix colleagues around the world to be in service to one another and the customers, partners, shareholders and communities where Equinix operates.
Charles has shaped the company's strategy and continued industry leadership, including doubling the number of global IBX data centers, evolving the capabilities of Platform Equinix, building ecosystems with thousands of the world's leading businesses as customers, and quadrupling revenues during his tenure.
Charles joined Equinix in 2010 with more than 25 years of experience in executive leadership positions at leading technology and IT companies, including at Verisign, Level 3 Communications and BellSouth. Charles earned dual master's degrees from Northwestern University's J.L. Kellogg Graduate School of Management and McCormick Graduate School of Engineering. He also holds a B.S. in Chemical Engineering from the University of Colorado.
Nanci Caldwell
Corporate Director and Former CMO PeopleSoft
Nanci Caldwell has served as a member of our Board since December 2015. Since 2005, Nanci has been a corporate director of many public and private companies. Prior to her role as a corporate director, Ms. Caldwell served as executive vice president and chief marketing officer of PeopleSoft from 2001 to 2004. Prior to joining PeopleSoft, Ms. Caldwell spent nearly two decades at Hewlett Packard in increasingly senior and executive sales and marketing roles in Canada and the U.S. Ms. Caldwell currently serves as a director of CIBC and Procore Technologies, both public companies.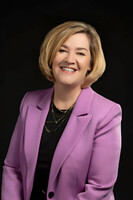 Adaire Fox-Martin
President Google Cloud Go-to-Market and Head of Google Ireland
Adaire Fox-Martin has served as a member of our Board since January 2020. Fox-Martin is President Google Cloud Go-to-Market where she leads the Google Cloud Sales organization, strengthening the go-to-market strategy and supporting customers' digital transformation journeys. Prior to this role, she served as a member of the Executive Board of SAP SE, leading Global Customer Operations (GCO) in 71 countries. She was responsible for SAP's business across the globe with a resolute focus on the success of over 437,000 customers and over 14,000 GCO employees worldwide. She is passionate about helping customers realize greater business value through technology within their own unique environments. While at SAP, she founded One Billion Lives at SAP, a social intrapreneurship program focused on improving the lives of one billion people around the world through creation of sustainable business ventures that have social mission at the core of their operations. In 2020, Adaire was named to Fortune Magazine's Top 50 Most Powerful Women International List for the fourth time running.
Gary Hromadko
Private Investor
Gary Hromadko has served as a member of our Board since June 2003. Mr. Hromadko was a venture partner at Crosslink Capital, a venture capital firm, from June 2002 through December 2017. Mr. Hromadko has been active as a private investor since 1993. Mr. Hromadko serves on the board of directors of several privately held companies.
Thomas Olinger
Former Chief Financial Officer, Prologis
Thomas Olinger has served as a member of our Board since January 2023. Olinger is an industry veteran with extensive international business expertise spanning the real estate and technology sectors. He was most recently CFO at Prologis (and AMB, its predecessor) from 2007-2022. He has significant U.S. and international IPO, capital markets and M&A experience which has made him a recognized leader and highly respected in the investor and analyst communities.
During his tenure as CFO at Prologis, Olinger drove significant scale and scope, moving it into the top 75 companies of the S&P 500. He was responsible for worldwide corporate finance and oversaw the roll-up of forecasted real estate operating results and metrics globally and chaired the company's Global Operating Committee. Olinger led the integration of over $50 billion of M&A activity, including the merger of AMB and Prologis while serving as Chief Integration Officer, as well as the public acquisitions of DCT Industrial and Liberty Property. He has significant international debt capital markets expertise, leading $100 billion in financing transactions. Under his leadership, Prologis was considered to have the best-in-class investor relations team. He was consistently in the top three CFOs in Institutional Investor's All-American executive team rankings and also recognized by the San Francisco Business Times as the 2009 Bay Area CFO of the Year for his leadership and success during the Global Financial Crisis.
Previously, Olinger served as Vice President, Corporate Controller at Oracle. He began his career at Arthur Andersen, spending 14 years at the firm, the last three as an audit partner in both the U.S. real estate and technology groups.
Olinger holds a Bachelor of Science in Finance from Indiana University's Kelley School of Business. Since January 2011, he has served as a board member of American Assets Trust, a public real estate company. He also serves on the Indiana University Kelley School of Business Dean's Council, the University of Notre Dame Fitzgerald Institute of Real Estate Advisory Board and as Vice Chair of the Carondelet High School Board of Trustees.
Christopher Paisley
Dean's Executive Professor, Leavey School of Business at Santa Clara University
Christopher Paisley has served as a member of our Board since July 2007 and as lead independent director since February 2012. Mr. Paisley has been the Dean's Executive Professor of Accounting at the Leavey School of Business at Santa Clara University since January 2001 and is currently the chief financial officer at Enterprise 4.0 Technology Acquisition Corporation. From September 1985 until May 2000, Mr. Paisley was the senior vice president of finance and chief financial officer of 3Com. Mr. Paisley currently serves as a director of Ambarella, Enterprise 4.0 Technology Acquisition Corporation and Fastly, all public companies.
Jeetu Patel
Executive Vice President and General Manager of Security and Collaboration, Cisco
Patel serves as Cisco's Executive Vice President and General Manager of Security and Collaboration. In addition to leading the strategy and development for these businesses, he also owns P&L responsibility for this multibillion-dollar portfolio. Jeetu combines a bold vision, steeped in product design and development expertise, operational rigor and innate market understanding to create high-growth Software as a Service (SaaS) businesses.
Sandra Rivera
Executive Vice President and General Manager of the Data Center and AI Group at Intel Corporation and Chief Executive Officer of Programmable Solutions Group
Sandra L. Rivera is executive vice president and general manager of the Datacenter and AI Group at Intel Corporation. She leads Intel's development of leadership data center products for a cloud-based world. She also drives Intel's overall artificial intelligence (AI) strategy and product roadmap.
Before assuming her current role, she was Intel's chief people officer, leading Intel's Human Resources organization worldwide. In that role, she was responsible for greater business results through a culture which embraces diversity and inclusion. She also previously led the Network Platforms Group which was a global organization of over 3,000 employees that drove the transformation of network infrastructure to Intel-based solutions and enabled breakthrough ways to integrate Intel's silicon and software portfolio to create greater customer value.
Rivera joined Intel in 2000 as a marketing director after the acquisition of Dialogic Corporation. Before joining Intel, Rivera co-founded and served as president of The CTI Authority, and served as president of the computer telephony division at Catalyst Telecom.
Rivera holds a bachelor's degree in electrical engineering from Pennsylvania State University. She sits on the Equinix Board of Directors, she is a member of Berkeley's Engineering Advisory Board, a member of the Intel Foundation Board, and is part of Intel's Latinx Leadership Council.
Fidelma Russo
Executive Vice President & General Manager, Hybrid Cloud & Chief Technology Officer
As Chief Technology Officer at Hewlett Packard Enterprise, Russo leads the innovation agenda and technology roadmap, managing the design and development of the portfolio to deliver GreenLake edge-to-cloud customer experiences to the market. She is passionate about working with customers to help them reimagine their information technology needs and deliver a simple, consumable solution that helps them drive business results.